The 4th Annual Artisan's Fair was held at American Legion Jeff Davis Post 18 in Centreville on September 21, 2013. 
Missy Rhodes, representative of Crossroads Community, Inc., the beneficiary of the Artisan's Fair. 
SV Residents enjoy their box lunches.

Shirley Clark and Willie DiLaura sell mini-quick breads. 
Phil Lambert and his Sea Glass Jewelry. 
Georgette Toews and her landscapes and paintings. 
Some of Jean Higgins' handcrafted glazed stoneware. 
Some of Jerry and Brenda Geesaman's handcrafted, painted bird houses. 
A delicious assortment of mini-quick breads were for sale. 
Anita Morris was extraordinary at selling raffle tickets! 
Suzanne Moore, representative from Crossroads Community, Inc., the beneficiary of the Artisan's Fair. 
Some of the "Kitchen Crew" - Bea Trotta, Anita Morris, and Nancie Cameron. 
Dave Peterson and his handcrafted wooden bottle stoppers, ornaments, letter openers, etc.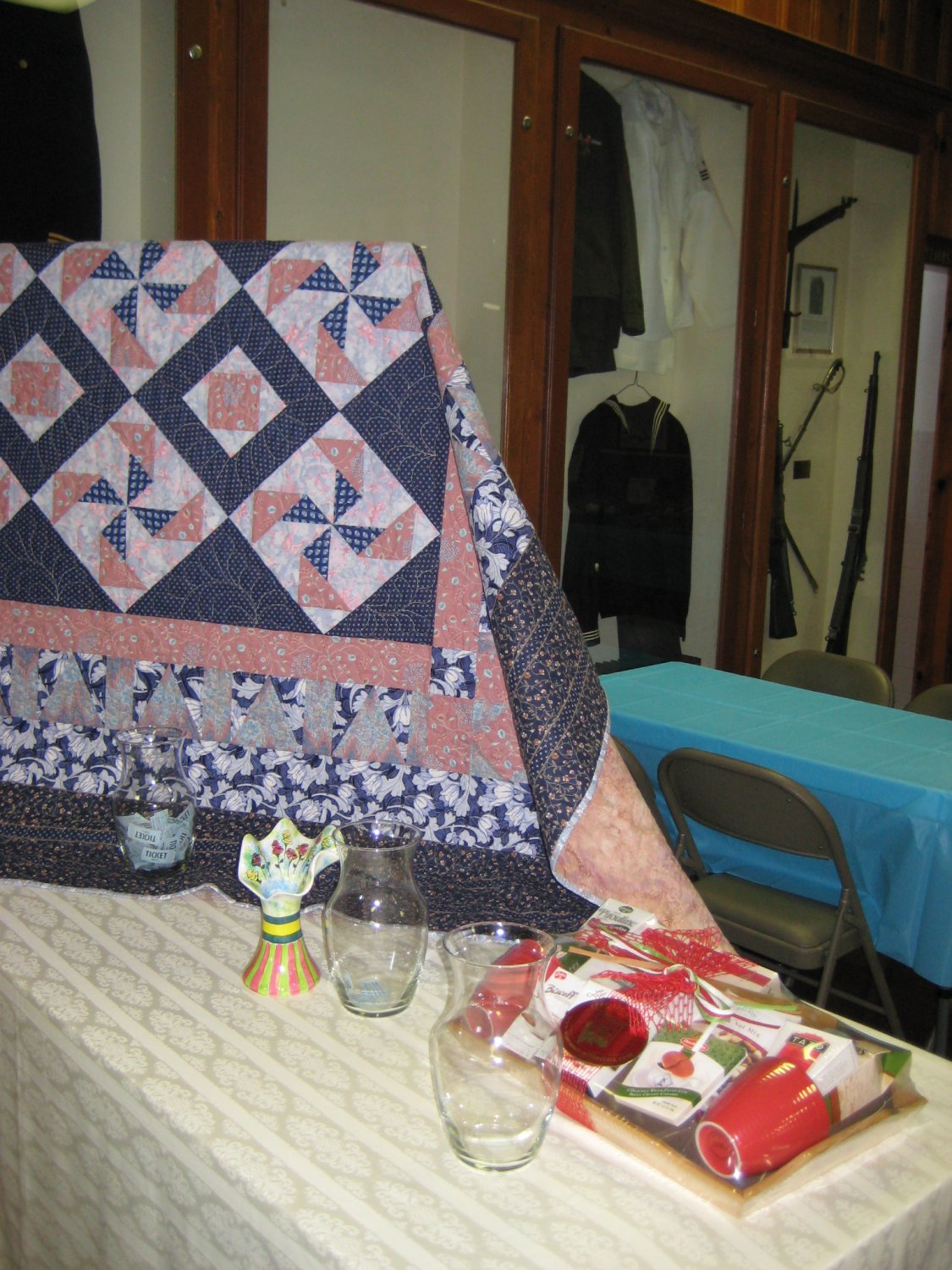 Raffle Items: The quilt was handcrafted and donated by Alice Washburn, Nancie Cameron's sister; the ceramic vase was handcrafted and donated by Teri Nudo; and the Coffee and Tea Gift Basket was donated by Loretta Quigley.
Al Wayson and his blue-ribbon-winning decoys. 
Jean Higgins with her handcrafted pendants. 
Eleanor Strietman shows off a handcrafted bejeweled watch sent by former-resident BJ McClaeb to exhibit at the Fair along with BJ's CDs.
Julie Tompkins exhibited oyster and okra angels, Christmas balls, shell ornaments, and more.

Jessica Winstead sold handcrafted wreaths (not shown), and Lindsay Bell offered her handpainted tumblers. 
Lynne Bishop shows her beautiful silk flower arrangements. 
John Frichett and his stunning Eastern Shore Photography, Scenes, and Wildlife. 
Theresa Herron offered handpainted customized blue crab shells along with handpainted signs, custom key chains, and glasses. 
Mary Drake exhibited her wood scroll art, and George Drake exhibited his photography. 
Robert Shaffer exhibited his handcut gemstone jewelry. 
Jerry and Brenda Gessaman showed handcrafted and handpainted bird houses and bird feeders. 
Cindy Backer's handmade wool mittens will warm many hands this coming winter. 
Photographer's Error - I got the wrong guy! This is Bob Backer standing in front of Dave Murphy's watercolors.

Alice Washburn displays knitted and quilted items, and she kept right on knitting throughout the Fair.

Amy and Joe Marotta offered a great variety of Christmas gift items. 
Pat Kindle offered lots and lots of handcrafted children's bows, bow holders, headbands, pony tail holders, flower clips, and more. 
Teri Nudo and her stunning glazed ceramic creations. 
Willie DiLaura and Shirley Clark prepare mini-quick breads for sale and ready the cookies and brownies to be included in the box lunch.